Introducing about Vien My Spa training center
Vien My Company is considered as one of  the best establishment to offer spa training courses in Vietnam. We are extremely proud and thankful that customers who are mostly spa owners as well as other trainees have put trust in Vien My.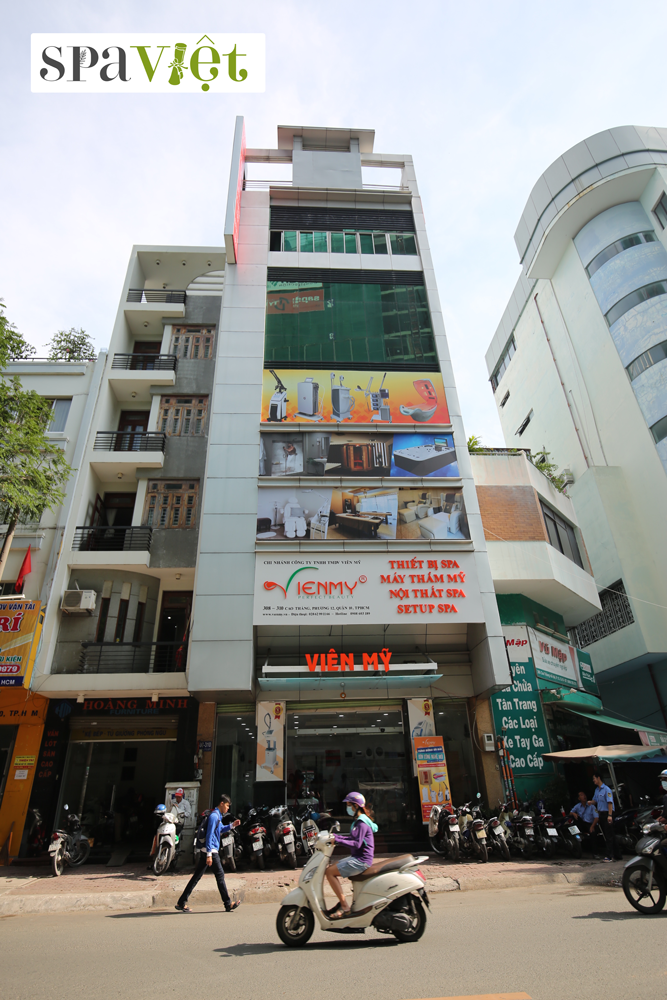 Established in 2006, Vien My has conducted trade mostly in distribution of supples, equipment and cosmetics in the beauty industry. Concurrently, Vien My is also a top supplier of spa design and construction as well as an experienced consultant on spa business. The statistics prepared by Vien My after a long period of consultancy indicate considerable similarity in the business strategy adopted by unsuccessful spas. Coincidentally, the owners of those spas are mostly not specialists in  spa business.
Unlike others, beauty industry's operations are undertaken directly on clients' bodies. Consequently, a spa owner must be knowledgeable about massage techniques, treatment methods and cosmetics suitable for Vietnamese people. Without those and passion, spa owners are not able to manage their staffs well and offer appropriate services to keep their clienteles. That is why there are a lot of business people who are successful  in other industries but fail to run spa businesses.
After consideration, Vien My has recommended those spa owners to join courses on massage techniques and skincare taught by its staffs to demonstrate fundamental knowledge. However, some people feel it is hard to manage the time to join all the courses due to their work. On  the other hand,  some  may feel reluctant to become their employees' students. As suggested by a group of close partners, Vien My invited experts in the industry to teach in special courses for those owners.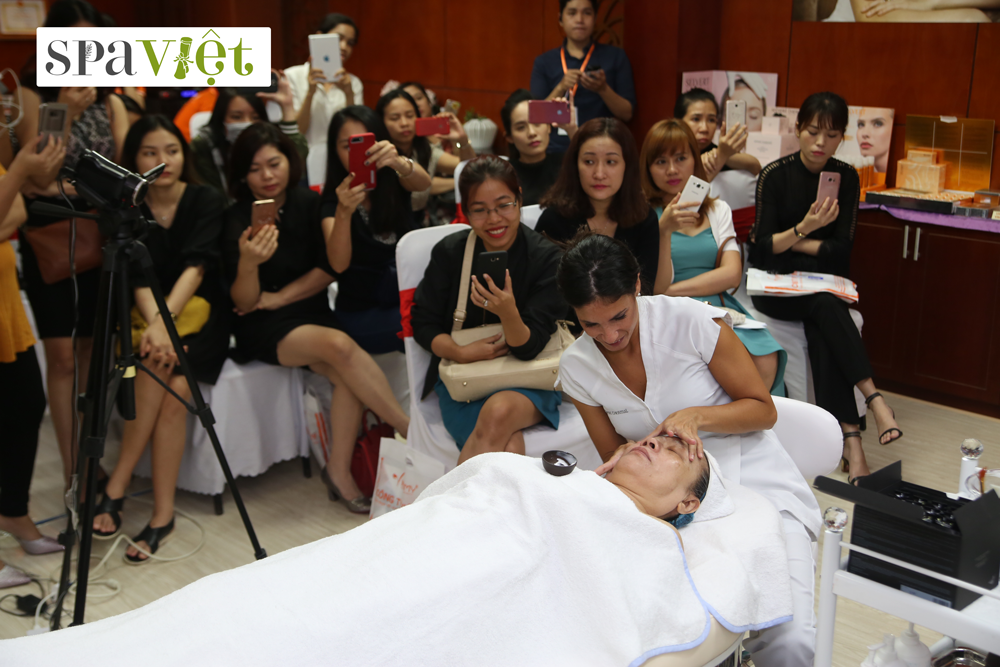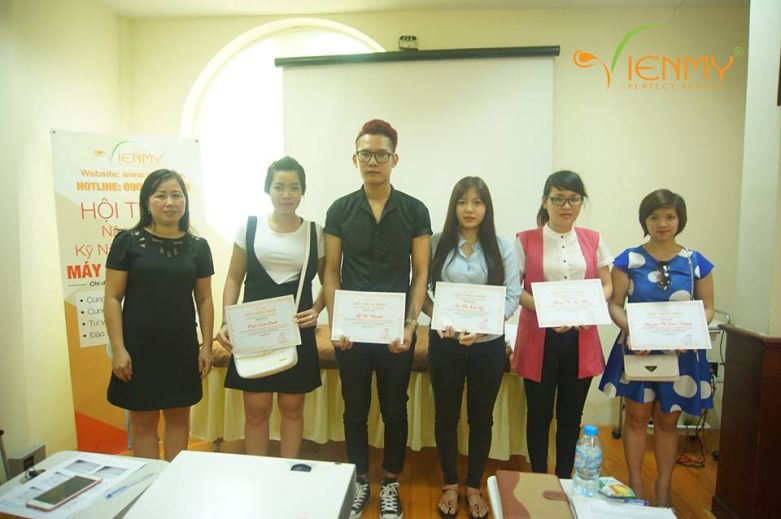 Spa owners in a seminar given by Vien My.
At the beginning, Vien My's courses were organized spontaneously; Nevertheless, upon request of several spa owners, there have been more people paying attention on "special" courses of Vien My. Vien My has received a  huge number of requests for offering more courses on spa business, managemant and marketing. Those requests are from owners starting their careers as spa employees. Their professional skills are outstanding, but they still encounter enormous difficulties in running their business. As a result, Vien My produced an idea to create a training center offering total knowledge to those spa owners.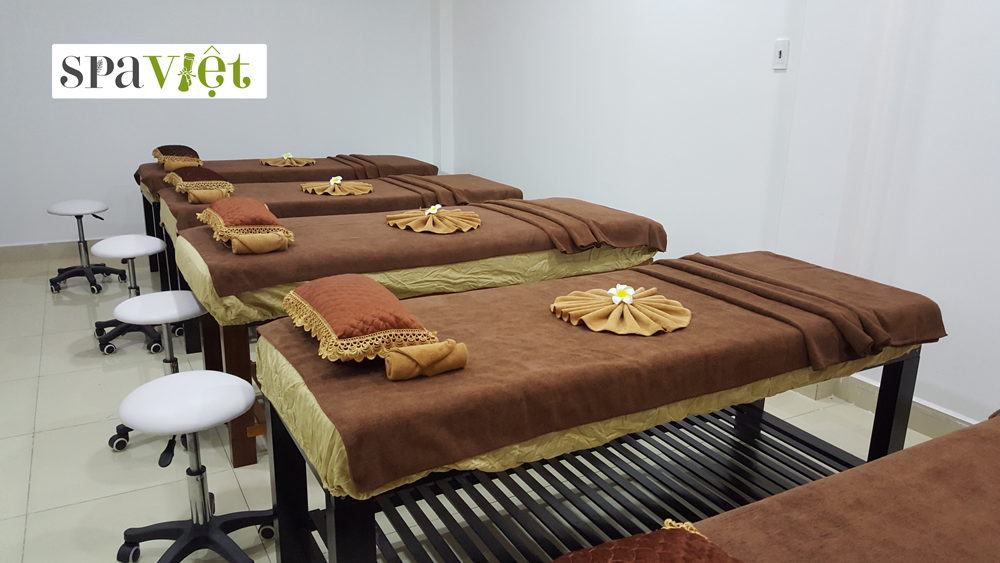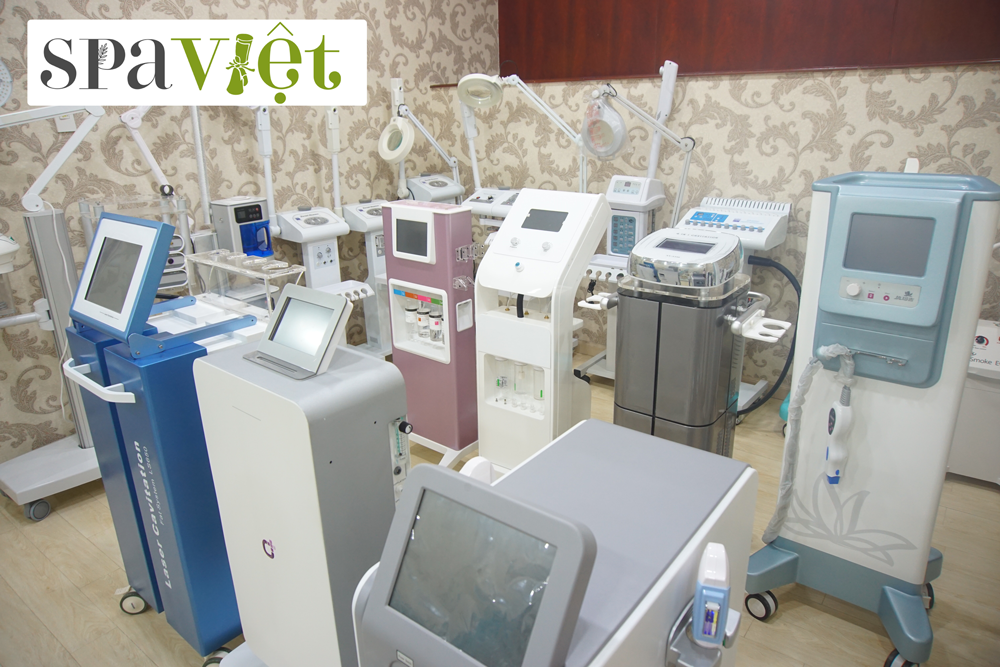 Equipment used in training
 After a long period of preparing lesson plans and teaching methodology, Vien My has officialy offered spa training courses. At the beginning, Vien My focuses mostly on training spa owners or those who are intended to run spa businesses. Unlike those courses run by spas,  Vien My focuses on reorganizing fundamental knowledge and skills of almost all operations conducted in a spa. Vien My hopes to shorten the training time and awaken the passion for spa business of those student spa owners. At the end of those courses, those owners may base on their fundamental knowledge to offer new services and develop effective business, marketing and customer care strategies.
After being requested by many spa owners in Ho Chi Minh City, Vien My has offered a number of different courses to their employees including Spa setting up, skincare, massage, short term courses on fundamental beauty industry knowledge and professional skills. Currently, those courses have trained thousands of high-qualified professionals to work in spas nationwide. This is a great pride of Vien My.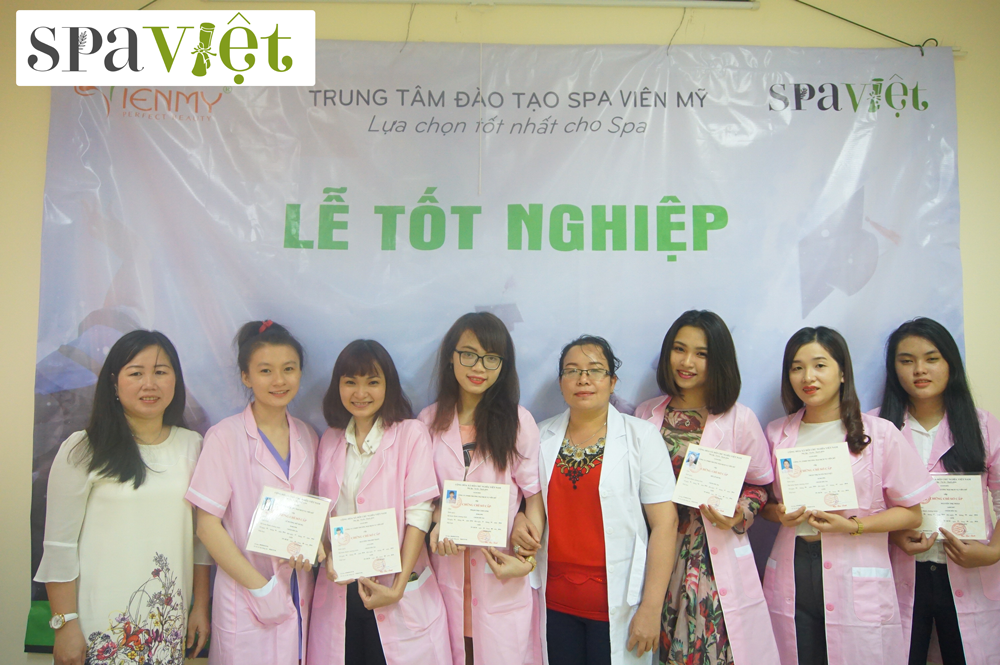 Spa course graduation
Vien My training center always focuses on serving spa owners. Spa business courses will offer comprehensive knowledge useful for running a spa business. Training courses are on skincare, Thai massage and Sweden massage, which train staffs to work for spas. The course on spa management with necessary skills for spa employees to get career promotion. The course on spa business with skills in managing and developing business plans, marketing, PR and service evaluation. All the above-mentioned courses are designed according to  spa owners' needs and interests.
In addition, with the hope to provide health and beauty care for Vietnamese People, We hope Vien My training center wil contribute to the development of the Vietnamese beauty industry. Therefore, in the long term, Vien My will frequently update advances in technology of the world's beauty industry to teach in our training courses, ensuring the appropriacy to the conditions in Vietnam. In the near future, Vien My  will  standardize the procedures – equipment and offer more courses on spa profession, applying hi-tech, mobile training spa employees, etc. Hence, we hope to receive positive responses from spa owners, trainees and those who are filled  with passions for spa business.
One more time, we would like to thank spa owners and trainees who always put trust in Vien My beauty training center. Wish you health and success!
Best regards!
Related Services